MEET PERPETUAL MOTION: JOSIE QUICK AND TOM CARLENO
Name any great duo in the performing arts, e.g. Astaire and Rogers (dance), Hepburn and Tracy (film), Lunt and Fontaine (theatre), and you will see they all share two things in common: talent and chemistry. Spend a few minutes in person with Josie Quick and Tom Carleno, for example, over dinner, and you will see their unique and undeniable chemistry as a couple, each playing off the other with the same quirky sense of humor, quick smile, and easy-going nature. That same chemistry is instantly apparent when they perform live as well. Josie's violin and Tom's guitar pirouette around the other in a delightful dance of in-sync simpatico. And when it comes to talent, whether you see them in concert or hear one of their albums (as Perpetual Motion), you will hear more than enough virtuosity to instill admiration and respect for their talent.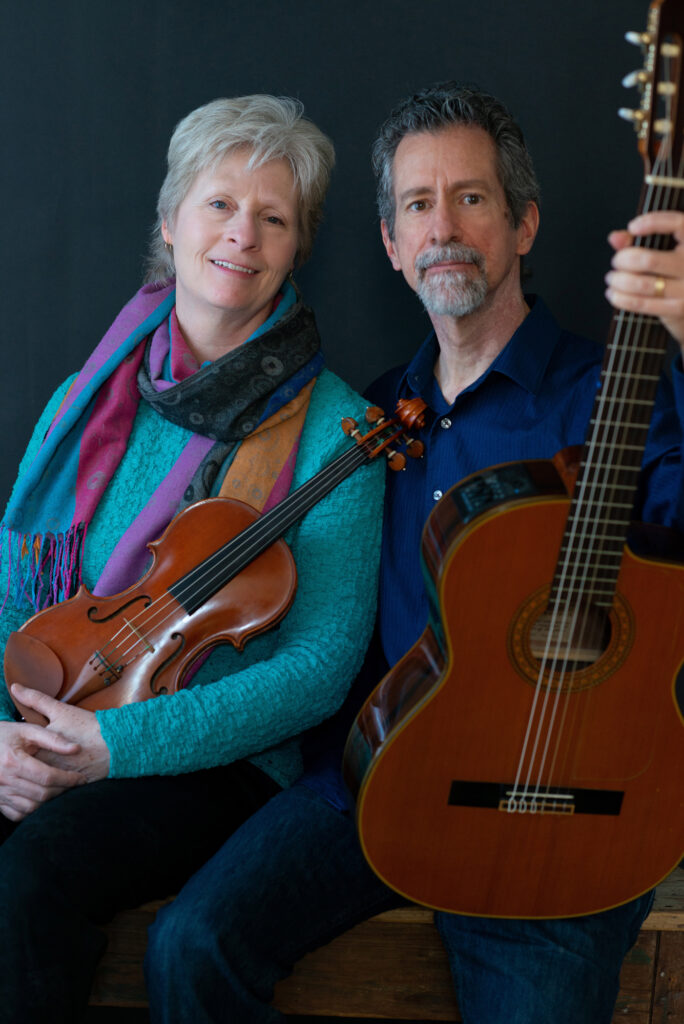 In the late '80s, guitarist Tom Carleno got the notion that adding some violin to his instrumental guitar music might be a good idea. He and Josie Quick were already both teaching music lessons privately through a store, so the pair "knew" each other somewhat. Nothing much happened until they attended a mutual friend's birthday party where the two started getting to know each other a bit better. A few days later, Tom asked Josie if she would like to collaborate on some music and she agreed. The rehearsal "date" was not really a date, but the two did discover not just that they meshed well as musicians but also as friends. While it took a while for romantic sparks to fly, their musical partnership flourished immediately and the duo Perpetual Motion began performing and recording. As their time together grew, so did a budding romance and the pair married in 1992. Since then they have continued to make music as Perpetual Motion and have released six albums (their sixth is the career retrospective, Rear View, released in 2017).
Josie Quick initially pursued a career as a classical violinist—that is until her introduction to jazz during her Bachelor of Music studies at the University of Denver. She became enthralled with the music of such luminaries as Stephane Grapelli and Jean Luc-Ponty (her love of Grapelli was an eerie premonition of her eventual pairing with Tom since Grapelli is so well known for having played with guitarist Django Reinhardt). She sought out opportunities to play jazz with local groups, but other than some demos, nothing much came of it.
Tom was drawn to the guitar almost by accident. As a youngster, at a family gathering, his cousin did a spot-on imitation of Jose Feliciano and Tom decided he wanted to be an entertainer. Not having played a single note on the guitar was no deterrent to the determined young man. He threw himself into practice with fierce abandon. It was when he began taking lessons from Steve Mesplé (one of the founding members of the groundbreaking instrumental group Wind Machine) that his music playing and composing really took off as Tom began perfecting his fingerstyle guitar technique and started experimenting with different tunings.
Now comfortably ensconced in Denver, the duo has spread their musical wings even further. Besides Perpetual Motion, Josie and Tom also perform and record with the prog-rock ensemble Coyote Poets of the Universe. In 2013, Tom launched his solo recording career with Perfect Imperfection, winning Zone Music Reporter's Best Instrumental Album – Acoustic (Josie produced the album and played "spoons" on one track). In 2015, Josie stepped way outside her jazz bubble and collaborated with synthesizer artist Jim Combs (who records as Sensitive Chaos) on his album March of the Timeshifters, on which her electric violin loops elevate the electronic music album into something truly extraordinary. She also appeared on the ZMR nominated Sensitive Chaos album "Walking a Beautiful World" and three albums with keyboardist Timothy Wenzel. Both of them are in high demand as session artists and each also teach private music lessons. While it may seem like that leaves little time for much else, the pair are also die-hard Denver Bronco fans and attend as many games as possible during football season. In fact one might say that between recording, performing, and instructing (not to mention attending Bronco games) Tom Carleno and Josie Quick are "perpetually in motion."