Dance of Two Souls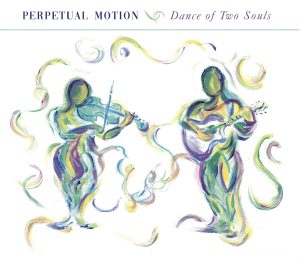 2019
Inspired by places visited and some not yet seen, Perpetual Motion has created Dance of Two Souls, an album that overflows with sunshine, joy, happy memories, romance and just enough drama to keep it real. Violin and guitar dance together beautifully! – Kathy Parsons, Mainly Piano
Josie's violin meshes perfectly with Tom's gently swaying acoustic guitar. They're joined by some excellent players, too… You'll hear them in all their musical glory on Josie's lively original "Dos Gringos". Tom's acoustic guitar intro on his original piece "Where Does The Time Go" segues ever-so-nicely into a wonderful musical portrait of the movement of time. The recording is flawless, and the performance is (truly) among the best I've heard (yet) in 2019 – Dick Metcalf, Contemporary Fusion Reviews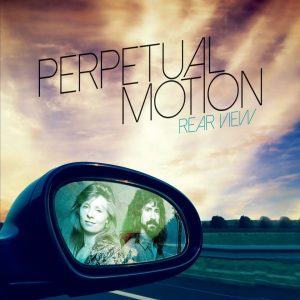 Rear View
2017
Encapsulating a 25-year career in making world-class acoustic instrumental music on a single album is a daunting task when the duo is as talented and multi-faceted as violinist Josie Quick and guitarist Tom Carleno, who together record and perform as Perpetual Motion. Culled from four albums dating back to 1993, the thirteen tracks on Rear View present Quick and Carleno (supported by other artists* on bass, drums, and percussion) at their artistic best, whether swaying in romantic fashion ("Nova"), pirouetting with a world beat intensity ("Jungle Spirits") or crafting a delicate, serene soundscape ("Harvest Moon"). Brimming with expert musicianship, inspired melodies, and infectious rhythms, this is one time you will benefit from "looking backward" more than ahead!
"It doesn't take long when listening to Perpetual Motion's career retrospective album Rear View before the astute listener realizes just how damn good guitarist Tom Carleno and violinist Josie Quick are at making their special brand of musical magic. Joined by their superb rhythm section, the duo covers a lot of ground (over a lot of years) crafting a wide variety of tunes, unified by expert musicianship as well as an obvious love of playing music, period. Hopefully, this is just their first "rear view" and somewhere down the line, they will release a Rear View Part Deux!" Bill Binkelman Zone Music Reporter
Price
$15
Swing Set
2009
An upbeat collection of vintage favorites, gypsy jazz classics, and a few originals thrown in for good measure, Swing Set will lift your spirits and get your toes tapping. Inspired by the spirit of the great gypsy jazz violinist Stephane Grappelli, violinist Josie Quick's melodic improvisations are playfully lively and lyrical. Award-winning composer Tom Carleno deftly maneuvers his way around his guitar, giving the music that unmistakable swinging gypsy flavor. Rounding out the ensemble is bassist Blake Eberhard, and drummer Christian Teele, both are sought after musicians known for their mastery of their instruments.
Price
$15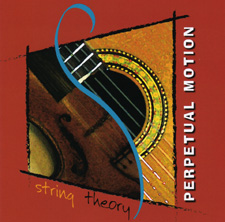 String Theory
2006
Perpetual Motion shows their growth from a folksy acoustic duo
to a progressive jazz ensemble with this album. Calling their
sound acoustic world fusion", Perpetual Motion has created
a vibrant blend of Central and South American folk, progressive
jazz, blues, and rock and roll. The result is a wonderfully eclectic
collection of songs, all tied together by an underlying Latin
groove.
"This great little CD came in as part of a package for guitarist Tom Carleno… on this earlier outing (2006), there are a whole host of players, too many to itemize here, but you can check them out at the CREDITS page. Songs like the high-energy "Spring Fever" will have you listening to this tune over & over again. There were some similarities to works I've heard by David Friesen (in the way back), but on a much brighter scale! The 6:42 "Jungle Spirits" was the clear winner for my pick as favorite of the ten tracks offered up – the changes are intricate and beautiful (though with that many, you may well find a different tune that's your favorite). I give Tom & crew a MOST HIGHLY RECOMMENDED for this CD, with an "EQ" (energy quotient) rating of 4.97. Get more information at the ALLMUSIC page for this album." Rotcod Zzaj
Price
$15
Surfing on Cloud Nine

1997
Surfing On Cloud Nine is an appropriate title for Perpetual Motion's
second album. From the opening chords of the energetic title
track to the driving swing of the final cut, all of the songs
show off the band's zest for life. Their compositions are an
eclectic blend of a wide variety of musical influences. There
is something for every musical taste on this album.
"an unstoppable improvisation team"- Kate Lavin, Vail Daily.
"…music that represents the Front Range. It's got such a unique feel… walked the fine line between New Age and Energy that's quite passionate. You just don't hear music that's so skillful." – Vince Panero, 1490am KWAB Boulder, CO.
Price:
$15
Ready,

Willing and Able
1993
Ready, Willing, and Able aptly describes Perpetual Motion's eager,
energetic approach to their rather unconventional style of music.
The violin and guitar duo's debut album showcases their wide
variety of musical influences of jazz, classical, rock, folk
and bluegrass.
Westword magazine's Best of Denver- Best Orchestral Maneuvering!
"Perpetual Motion conveys a sense of melodic freshness. The group's debut album, Ready, Willing, and Able shows what can be accomplished when players pursue styles outside their "best suited" field."- Linda Gruno, Westword magazine
"Be swept away to a gentler place with Perpetual Motion. The musicianship of Quick and Carleno is exemplary. This album…definitely deserves a place in your collection." -Kevin Duke, Denver Live
"A contemporary acoustic sonnet" – Dave Thomas, The
Denver Post
Price:
$10
Christmas

Time Is Here
2000
The much anticipated Christmas album from Perpetual Motion combines
distinctive arrangements of traditional Christmas music with
their unique original compositions. A must-have for your holiday
music collection.
"Following a tasteful version of "Joy to the World", the combo enlivens "Northern Lights", "It Came Upon a Midnight Clear" and the wittily titled "The Little Drummer Boy (From Ipanema)" via stylish arrangements and the refined violin playing of Josie Quick." -Michael Roberts, Westword Magazine
"What a beautiful and inspired record this is! Perpetual Motion brings high-quality musicianship and creative instrumental
arranging to …traditional Christmas songs." -Judy B., GoGo magazine
Price:
$15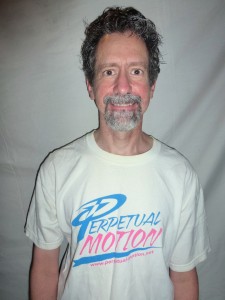 Perpetual Motion Logo
Shirt
Sizes: sm, med, lg, xl
Limited quantities available
Price:
$10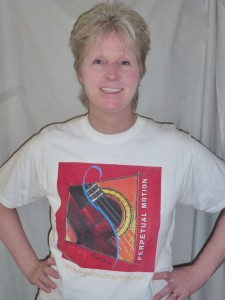 String Theory Shirt
Sizes: med only
Limited quantities available
Price:
$10